King - Farmers Best- Nutrena - Tarter Gate - Toklat - Reinsman - LMF - Natural Balance - Black Gold - Arkat - Cargill Salt - Long Beach Shavings - Mallard Creek - Manna Pro - Tuff Tubs - Shafter Hay and Cube - ASI Pellets - Bob Floats and Valves - High Noon - Equus Psyllium Fiber - Billy Cook Saddles and Tack - Circle Y Saddles and Tack - Weaver Leather - Fabtron - and Many More
FRED C. GILBERT CO.
Oildale's Very Best
Hay & Feed, Farm & Ranch Supply
106 Norris Road
Bakersfield, CA 93308
661-399-9569 - Oildale
760-376-8606 - Alta Sierra
800-494-3733
Fax: 661-393-9654
Feed store open Monday through Friday 9:00 AM to 6:00 PM * Saturdays 9:00 AM till 5:00 PM * Closed Sundays
---





A Little History:
Fred C. Gilbert Co. has been serving Oildale and the California Oilfields since 1954. Most of these years we have been involved in just the Sales & Service of industrial equipment. We have been located in Oildale since the late 1950's. First on Minner Avenue just down from the post office (about 10 years), then just accross the tracks on Bedford Way (about 40 years) Then in 2002 we moved to our present location near the corner of Norris and North Chester Avenue. Our new location is one acre with a 6500 square foot building including warehouse, pump and machine shop, offices, training facility and retail store. In early 2008 our customers began asking for Hay & Grain and Pet Supplies. Being animal lovers ourselves and seeing the need we began building a retail outlet to serve the community. We hope that you will stop by and take a look. We think you will be happy with our freindly service, good selection and our prices.
And so now along with all of the Industrial Products that we have always handled we are
Proudly offering the following feed related Quality Products:

---
King - Farmers Best - Nutrena - Tarter Gate
Toklat - LMF - Natural Balance - Black Gold - Arkat - Cargill Salt - Long Beach Shavings - Mallard Creek
Tuff Tubs - Shafter Hay and Cube - ASI Pellets - Bob Floats and Valves, Taste of The Wild, Nutra Nugget, Natural Balance, Atta Boy, Nutro, Wellness,
Reinsman - Equus Psyllium Fiber, Billy Cook saddles and Tack - Circle Y saddles and Tack - Weaver Leather - Fabtron and Many More
Friends of Freds - contact us for a free listing here:
Bit-O-Heaven Horse Rescue
Peacefull Valley Donkey Rescue
Partial List of Our Suppliers, lots of great info here:



King Feeds
Nutrena
Toklat
Reinsman
MannaPro
LMF Feeds
Kensington Protective Products

Partial Feed Inventory list:
Senior horse feed, horse treats, rice bran pellets, stabalized rice bran, red bran, wheat bran, whole corn, cracked corn, whole wheat, oats, crimped oats, steam rolled oats, barley, steam rolled barley, alfalfa hay, three way hay, straw, oat hay, phsylium, beet pulp pellets, beat pulp shredded, alfalfa molassis, hen scratch, chick scratch, layer pellets, layer mash, layer meal, alpacca, pot belly pig, hog grower, steer grower, carboraider horse feed, 20-20 horse feed, alfalfa pellets, grass pellets, timothy pellets, alfalfa oat pellets, alfalfa cubes, alfalfa oat cubes, shavings, white pine shavings, pine pellets, dog food, cat food, bird food, rabbit food, mare and foal, sunflower, rolled corn, 4way, cob, milo, salt blocks and bricks, millet, shoglo, milk replacers, pig ears, dog bones, calf manna, stall dry, chick starter, turkey grower, water fowl, koi, pheasant, sweet and sassy, show lamb, lamb grower, oyster shell, chick starter, etc..

Partial Supplements, First Aid and Grooming Supplies, Fly Control Inventory list:
Brushes, hoof picks, hoof dressing, linaments, leg wraps, polo wraps, fly masks, fly traps, fly bait, fly spray, fly repellant, sweat scrappers, curry combs, mane and tail brushes, silver spray, swat, thrush buster, corona, arthrieze, poultry dust, showsheen, frontline, clippers, vet wrap, terramycen, betadine, rice bran oil, saddle soap, nurse-all, high noon, biospot, msm, dura fork, cowboy magic, shed scraper, curry comb, safe guard, wormer, tasty paste, ivermectin, equus psyllium fiber, next level, mane and tail, repelx, wound kote, alumashield, etc..

Partial Hardware and Ranch Supplies Inventory list:
Tools, farm jack, rake, shovel, muck cart, muck bucket, trough, tanks, water pumps, switches, float valve, float valve parts, waterers, wire, barbed wire, tpost, tpost pounder, wire stertcher, fence pliers, pliers, pest control supplies, traps, feeders, feed buckets, rakes, brooms, muck rake, landscape rake, pry bar, hammers, wrenches, hay hooks, safety glasses, gates, wire filled gates, panels, walk through gates, trailers, water tanks, water trailers, seeds, planters, kneepads, retaining wall, solar panels, solar pumps, grease pumps, motor oil, gear oil, tractor oil, atv accessories, round pen panels, gate hardware, chick feeders, chick waterers, incubators, water bottles, nursing kits, etc..

New Tack Room - Partial tack Inventory list:
Saddles, Billy Cook Saddles and Tack, Circle Y Saddles and Tack, Weaver Leather, Fabtron, Headstall, bit, tie down, spur, cinch, bareback pad, saddle pad, halter, lead rope, rope halter, breast collar, reins, split reins, hackamore, rear cinch, billet, saddle, whip, come along, harness, hoble, etc..






This Page and This Business Is Under Construction





News: The Saddle and Bare back pads are in!
Coming soon: More Tack, Saddles, Bits, Headstalls, Reins, Cinches, Latigos, Etc.
If you would like us to carry a product in the store for you please let us know, we would be happy to get it for you. Please use the email link below or call 661-399-9569

Fred Says: If you want nice fresh oats you must pay a fair price. However if you can be satisfied with oats that have already been through the horse, that comes a little cheaper. Please ask for our fertalizer department.


We are a Certified State of California Small Business
For Pricing, Suggestions, or Comments Please Email: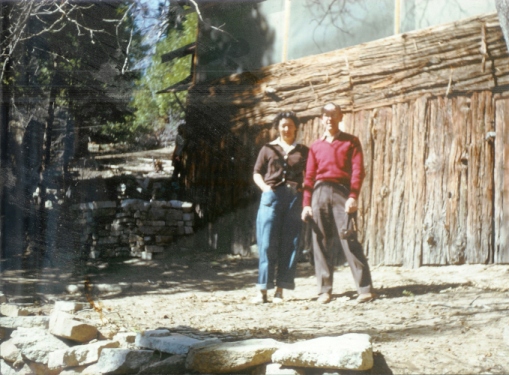 Fred C. & Jewel Gilbert in front of the Alta Sierra Cabin
On or about the summer of 1942.
Reproduced fron an old slide.
While at the cabin Fred was often heard to say
"I wonder what the poor folks are doing down in town."
Alta Sierra Weather